Bio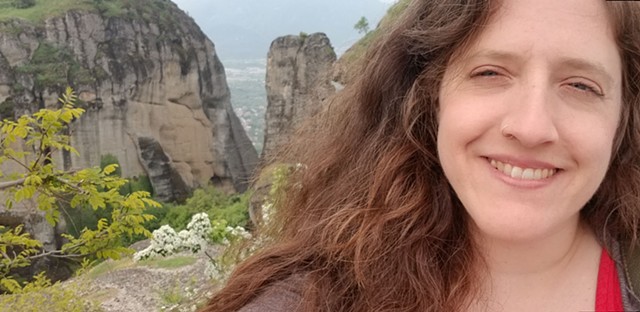 Cara Lynn Romano is a professional artist located in Cleveland, Ohio. She has a background in painting, drawing, and sculpture and she enjoys working in mixed media. She especially enjoys mixing watercolor and ink with drawing and collage materials. Cara is a skilled muralist and has been a featured chalk artist during street fairs. She also loves metalsmithing and making jewelry.
Cara thought of herself as an artist from a very young age and grew up in an artistic and supportive family. Her father was an art historian who worked for Oberlin College and her mother was an exceptionally creative craftsperson. By the time she graduated high school, Cara had made a name for herself as a muralist in her hometown of Oberlin, Ohio and her murals were featured on several businesses in downtown Oberlin. After high school, Cara moved to Chicago, Illinois, where she obtained her bachelor's degree in Visual Arts at The University of Chicago. While in college, Cara spent much of her time immersed in Italian art and culture, studying abroad in Pisa, Italy, and traveling all over that country.
She continued her studies at Ohio University in Athens, Ohio, where she completed her Master of Fine Arts in Sculpture along with a Master of Art History. While studying in an abandoned - and possibly haunted - infirmary at Ohio University where the graduate art studios were located, Cara began to master light. Her detailed tracings of light leave the viewer with a dazzling description of the passage of time. Cara would go on to incorporate these light and shadow tracings into her paintings, drawings, and three-dimensional sculptural installations. This work culminated in her master's thesis exhibition, "The Wofflin Line".
While in graduate school, she also worked at Ohio University's Kennedy Museum of Art as a curatorial assistant. She had the opportunity to work with the museum's renowned collection of Southwest Native American Art. This included extensive research of American Southwestern art and culture, which would lead to her masters thesis, "Gallery 66: Selling the Southwest". This work focuses on Native American art and the way it influenced the visual culture of Route 66 in the mid to late twentieth century. It, along with her life-long love of Art History in general, led her to her next move.
Following graduate school she moved to Dallas, Texas to intern in the curatorial department at the Dallas Museum of Art. She worked in the Ancient and Asian department, where she fell in love with the art of South Asia. The jewel-like miniature paintings of India and the ritual art of Nepal and Tibet added another layer of color and influence to her palette.
After Dallas, Cara returned home to Ohio and began her teaching career at Cuyahoga Community College (CCC), where she has taught drawing, painting, and art appreciation for over ten years. Her work at CCC and love for art and curation eventually led her to the Negative Space Gallery in Cleveland, Ohio. Here she found some of her favorite people, including her husband Sean, who is involved in the performing arts at Negative Space. Cara and Sean recently restored a century home on Lake Erie, which includes a jewelry shop in the basement, a studio in the attic, a well-curated assortment of knick-knacks, and several furry companions.
-JR